Labeled as a 'specialty coffee', but to the untrained eye it may look just like an everyday latte or cappuccino, the flat white has many asking, "what makes this coffee so special?"
Published on
April, 18, 2016
Labeled as a 'specialty coffee', but to the untrained eye it may look just like an everyday latte or cappuccino, the flat white has many asking, "what makes this coffee so special?"
Originating from Australia, the flat white coffee has most certainly become the latest trend in the art of coffee drinking, and going by the same name, a new and very on-trend coffee kiosk has opened at The Pearl-Qatar.
But first …..What is a flat white coffee?
Creamy like a latte and as strong as a double espresso, the flat white is the perfect combination of both. The drink is considered as 'special' due to using microfoams – smaller, finer bubbles – where the milk is folded into the drink rather than poured.
What you may also notice is the serving size of a flat white, which is typically smaller than that of a latte or a cappuccino; allowing for the coffee to milk ratio to be more evenly balanced. What results is a really smooth, strong coffee.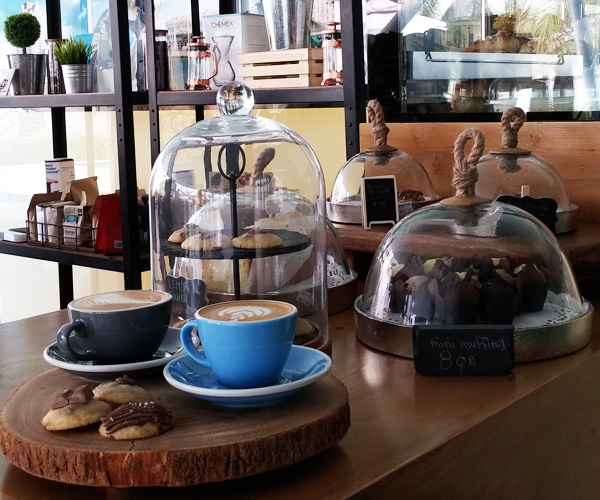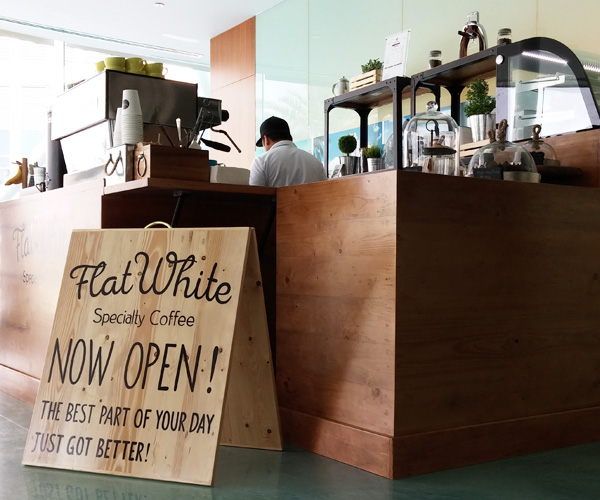 Who are Flat White?
Through the power of social media, many in Qatar – and beyond, have heard of the new Flat White kiosk located in the vibrant setting of The Pearl-Qatar's Oyster office. And since its opening, Flat White has seen countless amount of customers come through its glass doors, with many, trying this artisan coffee for the very first time.
Choose from their regular flat white, or an espresso flat white – shorter and much more intense, but just as smooth and creamy.
Beyond the coffee
Flat White also serves a selection of food, the menu is small but sound, ranging from indulgent cookies and brownies to filling sandwiches and a healthier option of fruit salads.
The dainty bakery items on offer are quite literally hot commodities. There is something cute and delightful about them and it seems that most who visit think the same; as quite simply, if you do not come early to Flat White, you may be disappointed to find out that they have sold out for the day!
So take this as a tip: head over to the Flat White kiosk EARLY and get yourself a selection of tasty treats, and of course, try a cup (or two) of their specialist coffee.
Flat White at The Pearl-Qatar has quite literally, become the new champion of the caffeinated games!
Opening hours: Saturday 10am - 5pm, Sunday-Thursday 8am - 6pm and Friday – Closed.