Lace fashion avaliable at Per Lei Couture
Published on
May, 03, 2016
It seems like with every spring season that arrives, you cannot escape the amount of lace on the runway at the Spring/Summer 2016 shows. Designers are hot for this 'girly' fabric and we are not complaining, as whether it be a dress, top or pants, lace is fun, flirty and flattering.
So here is a rundown of the top 5 lace pieces that are a spring wardrobe must.
1 - Romanticism is a key feature in lace, & nothing is as more romantic and elegant than a pure white look.

Dress, Christian Siriano, at The Closet, 7 La Croisette, Porto Arabia.
2 - For a flattering addition to your wardrobe, head straight for lace and anything off the shoulder.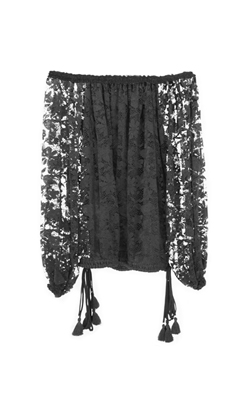 Top, Chloé, 7 La Croisette, Porto Arabia
3 - Add a bit of boho-chicness with pieces that combine embroidery, tassels and fringing.

Top, Etro, 6 La Croisette, Porto Arabia
4 - Red lace is a glamorous choice for an evening outfit, add some bling accessories and you are good to go.

Dress, Elie Saab, 6 La Croisette, Porto Arabia
5 - Lace is not just restricted to clothing, incorporate the trend into your accessories to give your finished look a feminine statement.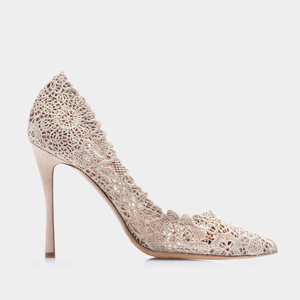 Heels, Tabitha Simmons at Per Lei Couture, 18 La Croisette, Porto Arabia
Tips:
To avoid clashing, stick to one lace pattern and item, like a top or skirt or small accessories like a clutch and shoes.

Lace is a great option for when deciding what to wear on special occasions, such as galas. It is an elegant and very on-trend choice of fabric.

Nothing creates mystery and drama quite like black lace does; however do not be afraid to also try white or cream lace either.
Another great way of introducing lace into your wardrobe is going bright and bold! Colorful lace works well for parties and nights out.