Sweets of Ramadan
Published on
June, 22, 2016
During Ramadan month, an Iftar meal is certainly incomplete without of course the irresistible Ramadan desserts.
The tempting beauty of a host of traditional sweets such as konafa, basbousa and baklawa stir up mouthwatering excitement when the time comes to breaking the fast! Ramadan, a month of worship and giving, is also a month full of flavor and wondrous gastronomic experiences.
Here is a sample of Ramadan's most delectable sweets which can all be found in various dining outlets at The Pearl-Qatar such as:
Mado Turkey, Emirgan Sütiş, Burj Al Hamam, A'la Turkish Cuisine, and as well the popup food truck from one of Qatar's most famous dessert places, Al Aker Sweets.
1. Konafa
Sweet, rich, crunchy and creamy, konafa (knafeh/ kunafeh) pastry is the Middle Eastern version of the cheese cake. Made of semolina dough and thin noodle-like phyllo pastry, this is arguably the most popular Arabic dessert. Simply put, it is cheese pastry soaked in sugar syrup and crunchy on the outside.
2. Baklawa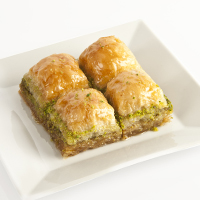 Eating Baklawa during Ramadan is a tradition that goes back to the 15th century, recorded in Ottoman palace documents. A golden baked crumbly pastry which is drizzled with syrup, baklawa is made from several layers of phyllo pastry, chopped nuts and topped with sweet syrup or honey. This crunchy pastry is traditionally served in small gateaux sizes as a popular Arabian delicacy.
3. Qatayef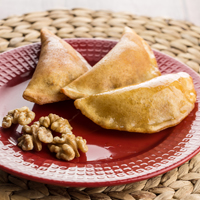 Qatayef - shaped like a half moon – is an Arabic dessert commonly eaten during Ramadan and famous originally in Egypt and the Levant. This sweet Arabic pancake is often filled with akkawi cheese, or any unsalted cheese and served with a sugary syrup or honey. Qatayef can also be filled with nuts and is commonly fried, yet, as a healthier alternative, some cultures choose to bake it.
4. Basbousa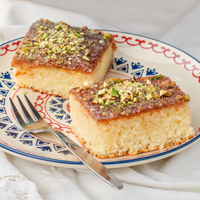 Basbousa (a soft, fragrant dessert) has various names across the region including halva de semolina, love cake, harissa, nammourah, gâteau de semoule and many more, and therefore can be prepared in many different ways according to the country it is made in.
5. Halawet El Jibn
Halawat el jibn (meaning the sweetness of cheese) is a very popular Lebanese dessert. This dish is basically a thin layer of phyllo pastry with cheese, rolled and dipped in sugar syrup. A finger-licking dessert, halawat el jibn is often garnished with nuts, especially pistachios and can be topped with orange blossoms.