With each passing day, Hospitality Development Company proves that not only does it have a winning formula, but also a medal-winning culinary team.
Published on
March, 20, 2016
Behind every great leader is a hardworking team. That could not be any truer of the culinary lineup at Hospitality Development Company (HDC).
Headed by Corporate Director of Food & Beverage, Chef Luca Brambilla, HDC has now more than ever developed a culinary dream team whose creativity and cooking are outmuscling many of their competitors. A measuring stick for success as certified kitchen masters can only be validated through competitions such as Salon Culinaire, which took place October 2015 for the second time in Qatar at the Doha Exhibition Centre. And true enough, HDC's gastronomy crew did not disappoint during the three day spectacular events of chef challenges.

THE MASTER CHEF
LUCA BRAMBILLA - Corporate Director of Food & Beverage
Having been raised in rural Tuscany, Italy, Luca learned, developed and harnessed his appetite and passion for cooking. With over 18 years of extensive experience working for a range of world class resorts, Luca has for the past eight years skillfully headed up the kitchens of many upscale restaurants in Lebanon, Saudi Arabia and Dubai. Now, and as he continues his culinary journey here in Doha, Luca maintains and ensures that the vision of HDC is carried forward.
During Salon Culinaire 2015, Luca could be found at the 'live cooking' stations, professionally overseeing the various contestants, while serving at the same time on the event's advisory and time-keeping team as certified judge of World Association Chef Societies.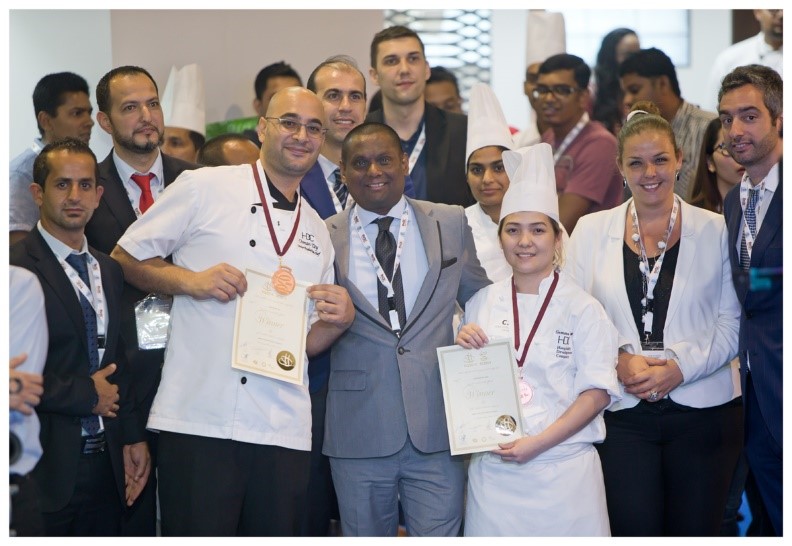 THE COACH
OSMAN TAY – Senior Production Chef
It is clear that Chef Osman can certainly handle the heat. Working for over nine years in the kitchen across the Middle East and rapidly climbing the culinary ladder, Osman has served for the past six years as Senior Production Chef at HDC. In a family led atmosphere, Osman successfully takes up the patriarchal role in HDC's team of chefs. Ensuring that each team member is well supported, all ideas heard and concepts discussed, Osman naturally demonstrates his exemplary character, clearly notable during this year's Salon Culinaire where he won HDC's first medal (bronze) for the 'Canapés' entry.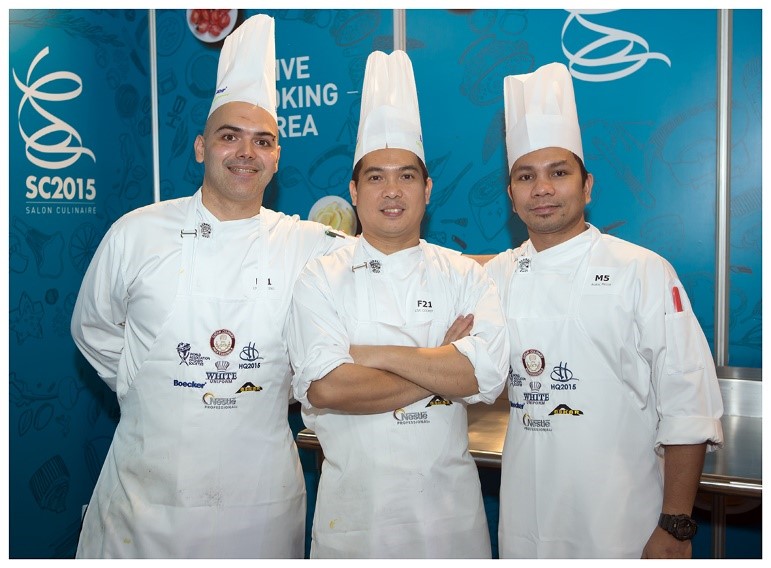 THE TEX MEX KING ( LEFT )
MARIO BORTONI – Sous Chef
As a Mexican Chef with 10 years of experience, Mario is somewhat a culinary deity from above. Seeing a gift within him, Mario's family encouraged him to enroll in Culinary Arts where he successfully obtained a degree in the field, propelling his career within the profession. If we talk about fire power, and this is one thing that Chef Mario possesses as a Tex-Mex specialty chef, one would expect such fiery passion mixed in with each dish made. His unfailing passion in the kitchen is kept burning even more so as HDC is due to launch its new Mexican concept Isla, which will see Chef Mario fronting the 'cantina' style eatery. Winning a silver medal at his first ever culinary competition in Salon Culinaire is a great testament to his culinary skills, especially when the category is in the infamous 'Black Box' – where the Chefs will have no prior knowledge of the ingredients they are presented to prepare a three-course meal. Challenging as it may sound, Chef Mario certainly excelled with his offering.

THE EASTERN DELIGHT
ZHEN HAN – Executive Chinese Head Chef
With his creative style, sharp presentation, and delicious food combinations, it may come as a surprise to know that Chef Zhen merely stumbled into his culinary career, learning all his skills on the job. From humble beginnings as a dishwasher in small scale restaurants in China, Zhen has shown that he is a technical hand- in-his craft by winning not only a bronze medal during the 'Signature Dish' challenge at Salon Culinaire, but also an award for his impeccable hygiene standards. Mixing the multitude of flavors and varieties that the Asian cuisine has to offer, Zhen feels within his element when behind a wok, starring up and creating authentic Pan-Asian dishes. One of the delights he has on offer is the winning dish of seabass with Japanese tofu and ginger soy sauce, a dish we can all look forward to try at one of HDC's newly re-conceptualized restaurants, Krane, at The Pearl-Qatar.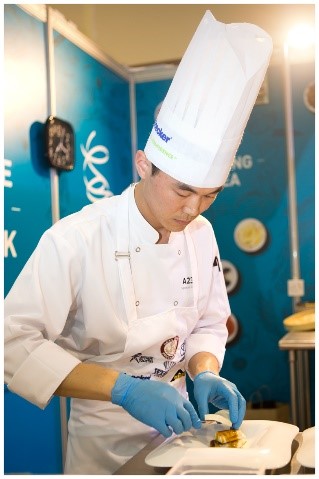 THE EASTERN DELIGHT
Dulanga Wijesinghe – Chef De Partie Pastry
Causing a stir in the Doha dessert scene as of late, this talented young chef is a culinary force to be reckoned with. Pastry Chef Dulanga recalls first being interested in pastry as a child when spending time with his mother conjuring up Sri Lankan sweet delights. Honing his interest from the start has seen Chef Dulanga excel rapidly in his field, competing and ultimately winning medals in the early stages of his career. Specializing in unusual flavor combinations, Dulanga spends his days mixing, piping and sculpting everything from delicate chocolates to towering sugar sculptures for all HDC's restaurants, outlets and private functions. Chef Dulanga carried on his winning streak at Salon Culinaire 2015, when he masterfully became a silver medal champion during the painstaking 'Wedding Cake' category, where chefs worked under constant scrutiny by master judges, while having some of the world's most renowned chefs evaluate their elaborate pastries.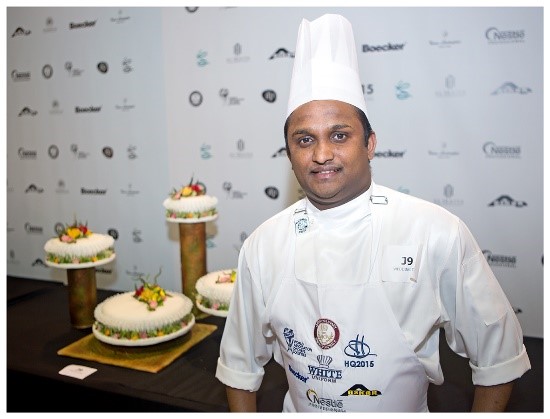 THE INVENTOR ( CENTER )
CHRISTOPHER BYLON – Demi Chef De Partie
Christopher Babylon, from the Philippines, is not just a cook. If you deconstruct him the way he deconstructs food, you discover that he is also an artist, an inventor, a designer and, to some degree, a philosopher. He attacks the kitchen in the same fashion a scientist toils over his experiment. Chef Chris, who is in charge of the bustling and very popular café The Chocolate Bar at The Pearl- Qatar, did learn from the bottom up and admits that he is at his best when in the kitchen inventing and discovering new possibilities. Not a novice to competitions, Chef Chris enjoys showing off his creativity and ingenuous creations. Naturally, there was no more a fitting category for him at Salon Culinaire than that of the 'Black Box', and he was up to the challenge as he collected a silver medal award.
Anytime you can put together a group of talented chefs, the entire experience of friendship and professional relationships rises to a new exciting level; creations come to life, dishes take on a whole new concept and the restaurants sparkle with contented customers. With each passing day, Hospitality Development Company proves that not only does it have a winning formula, but also a medal-winning culinary team.